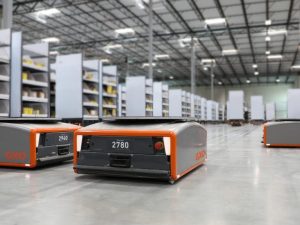 Abercrombie & Fitch Co. has entered into a partnership with GXO Logistics Inc. to set up a distribution center in Goodyear, Arizona. To that end, the companies will lease a 715,000-square-foot project owned by Westcore, according to the Phoenix Business Journal.
The facility, expected to be fully operational by the end of 2021, will serve as the retailer's new hub for its West Coast operations and is expected to provide more than 300 jobs for metro Phoenix.
The facility is part of the master-planned 1,600-acre PV 303 business park and will take shape on a 45-acre lot at 17780 W. Thomas Road, according to public records. The developer broke ground for the project in 2020, financing the construction with a $39.6 million loan from the US bank, according to CommercialEdge. Delivery is expected in October.
The single-story warehouse is designed to be energy efficient and climate controlled and has a maximum headroom of 36 feet and ESFR sprinklers. When fully operational, the distribution center will feature advanced automation, including goods-to-person robots, as well as intelligent analytics such as AI and machine learning.
The property is approximately eight miles northwest of downtown Goodyear and two miles north of Interstate 10. It is not the first Goodyear warehouse in GXO's portfolio. The company also leases a 640,000-square-foot logistics facility at 16560 W. Sells Drive. The company, formerly known as XPO Logistics, currently operates seven warehouses in the Phoenix metro area and the new agreement will bring its local footprint to more than 2 million square feet.
In good company
Abercrombie & Fitch will operate its new distribution center near several other major corporate brands, including Amazon, Ferrero USA and Healthcare Arizona, all within 2 miles of the facility. And more businesses remain in the area as KeHE Distributors recently announced the inauguration of its 16th distribution center at 17510 W. Thomas Road in October.
There is no shortage of quality distribution space in the Phoenix West sub-market of the metro. According to a report from Colliers, as of the second quarter of 2021, the western submarket had an inventory of approximately 181.6 million square feet of industrial space, of which 147 million square feet related to warehousing and distribution space.
And there's more to come. In September, CapRock Partners began work on a 3.4 million square foot logistics park, the largest speculative industrial project ever in Phoenix. The development will come online in two phases on a 183-acre site at the northeast corner of North 59th Avenue and West Van Buren Street.
One of the area's largest projects, the 5.5 million square foot Cubes in Glendale, will also include speculative distribution space within the 1.2 million square foot Phase I, which started in March. The development is adjacent to Luke Air Force Base.
Other planned or ongoing logistics developments include Yuma|143, a 490,000 square foot distribution center that will take shape at the intersection of Yuma Road and 143rd Avenue in Goodyear, and Buckeye85, a 321,873 square foot project underway at the intersection. of 103rd Ave. Avenue and Buckeye Road.