With a career as a renowned art auctioneer and founder of Los Angeles Modern Auctions, Shannon Loughery knows a valuable masterpiece when she sees one — and Loughery's recently-listed Mid-Century Mid-Century Home in Encino is just that.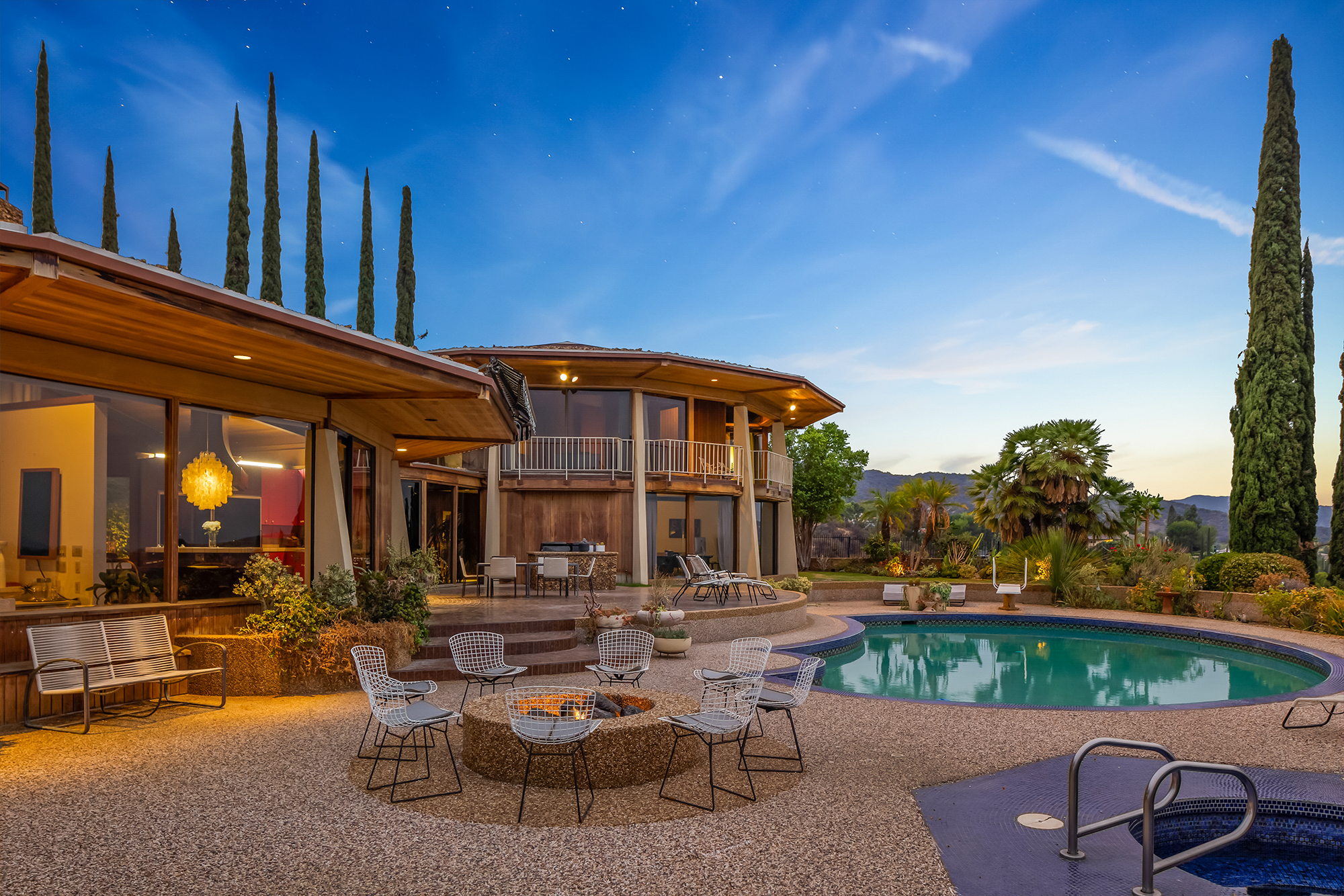 The valuation of a work of art does not differ much from that of a home. Ask any art auction or broker around the world, and they'll tell you about the litany of factors that influence determining the value of something and how much of those factors can overlap, such as artist, uniqueness, and condition.
The artist in this case is the celebrated Los Angeles architect Donald G. Park, who designed the house built in 1972.
Known as the Lewis Estate, this residence is arguably Park's magnum opus, or at least its most architecturally significant. A modernist marvel, the house consists of three sprawling dodecagonal structures bridged together with a glass pavilion.
Located on an acre of the Encino Hills with sweeping views of the San Fernando Valley, this unique home spans over 6,800 square feet of interior space with six bedrooms and six bathrooms.
The unique design of the house gives way to a spectacular interior with high wood panels that span the geometric ceiling, walls of glass windows that allow a 200-degree view, and warm-toned tiles in a circular pattern that encloses a sunken living room with a fireplace.
Freestanding stone walls help to separate the floor plan, but also provide ample space for displaying art.
The kitchen is furnished with a retro look, but is equipped with modern appliances, such as a smooth island hob with an exhaust air vent.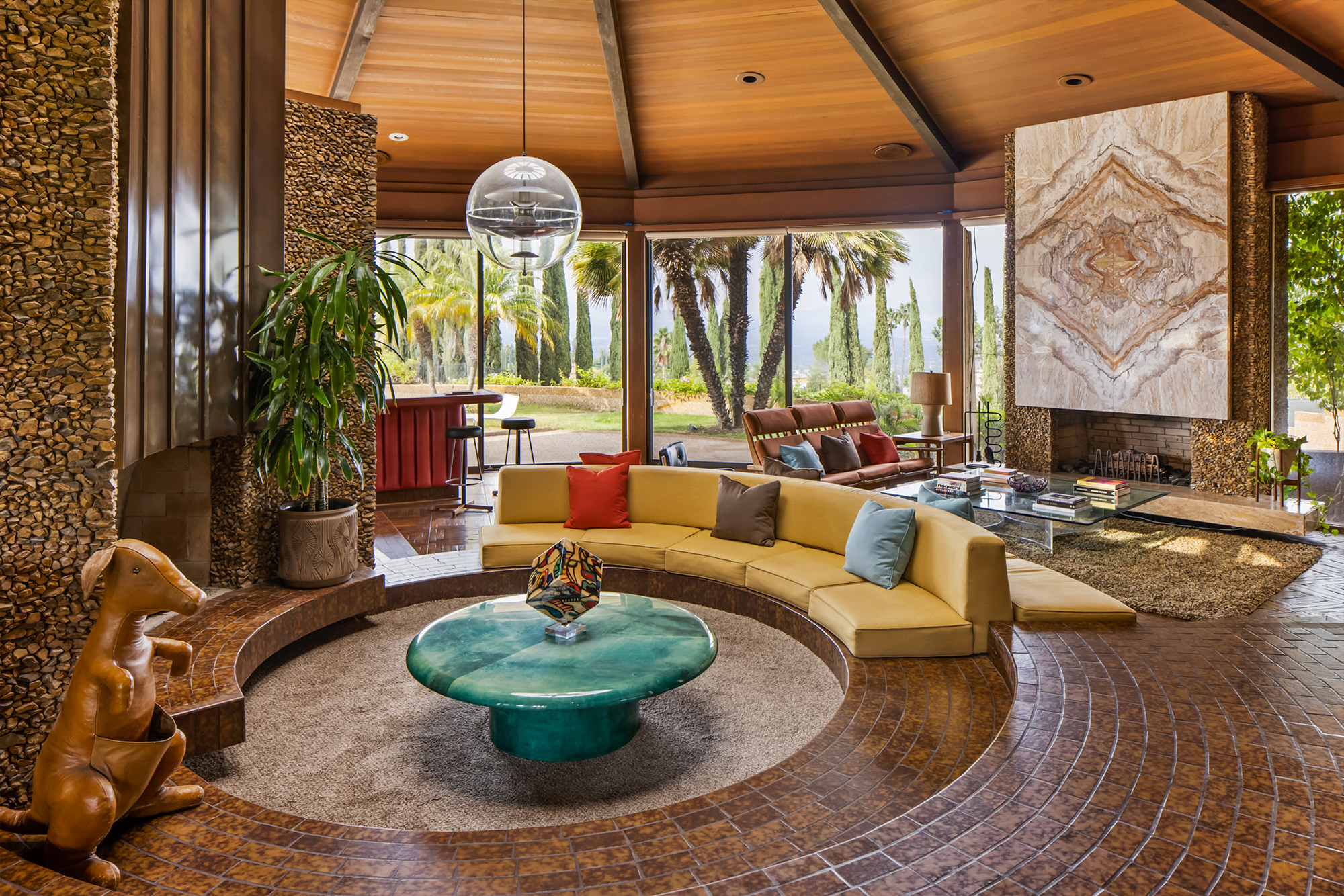 A variety of flooring is used throughout the home, including patterned tile, parquet, and mint green carpet that covers a sleek spiral staircase. Rich pops of color are ubiquitous, showing off in full in places like the deep green of the tub and bathroom sinks upstairs, the vibrant pinks and purples of the kitchen cabinets, and the soft yellow of the built-in bench.
The floor plan is completed by a separate vintage bar, two dining areas and an atrium that opens to a breathtaking beamed skylight.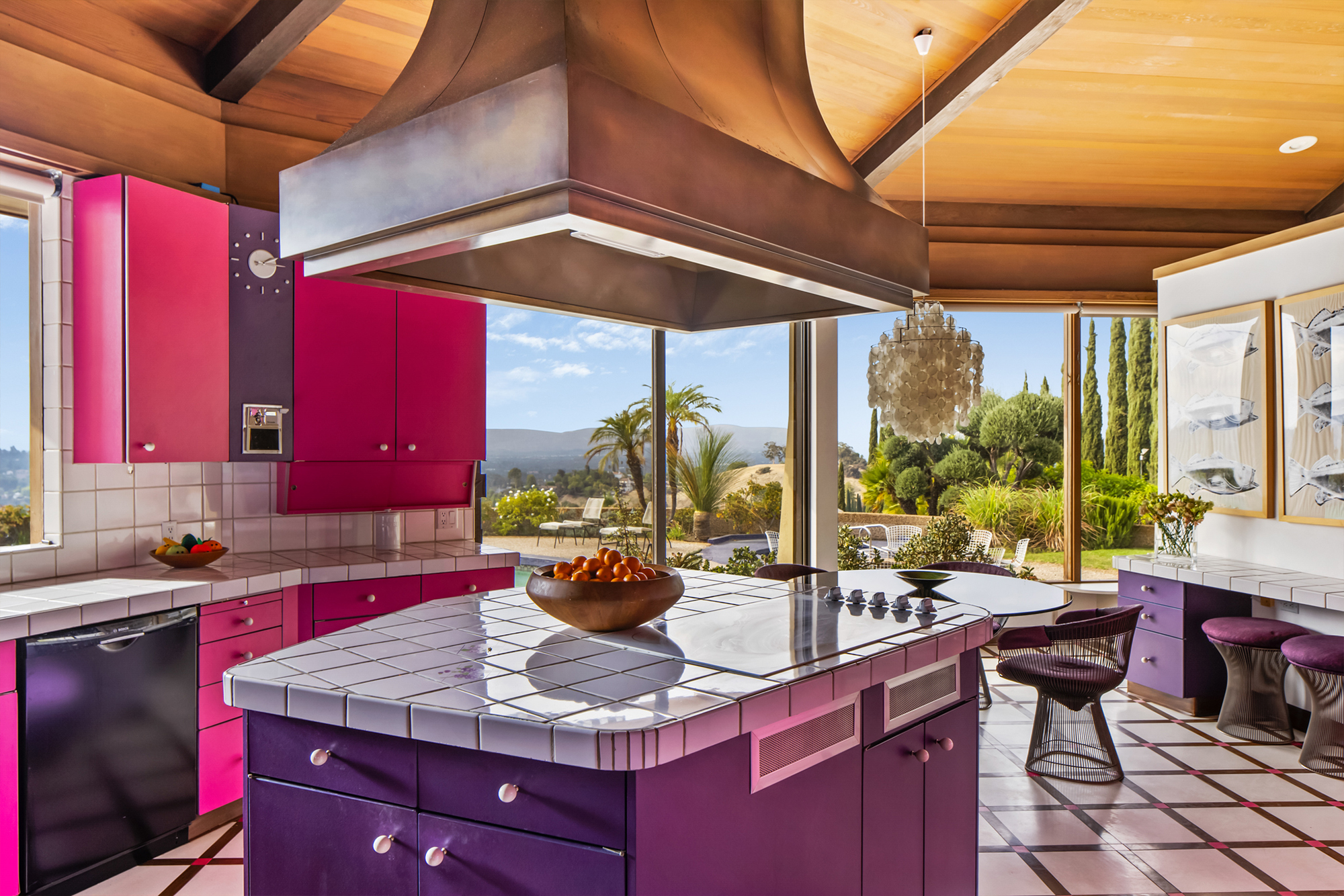 Outside, the patio overlooks the valley floor, where residents can gaze at a landscape of mountains and city lights while enjoying the heated spa, swimming in the pool, or sitting around the gas fireplace.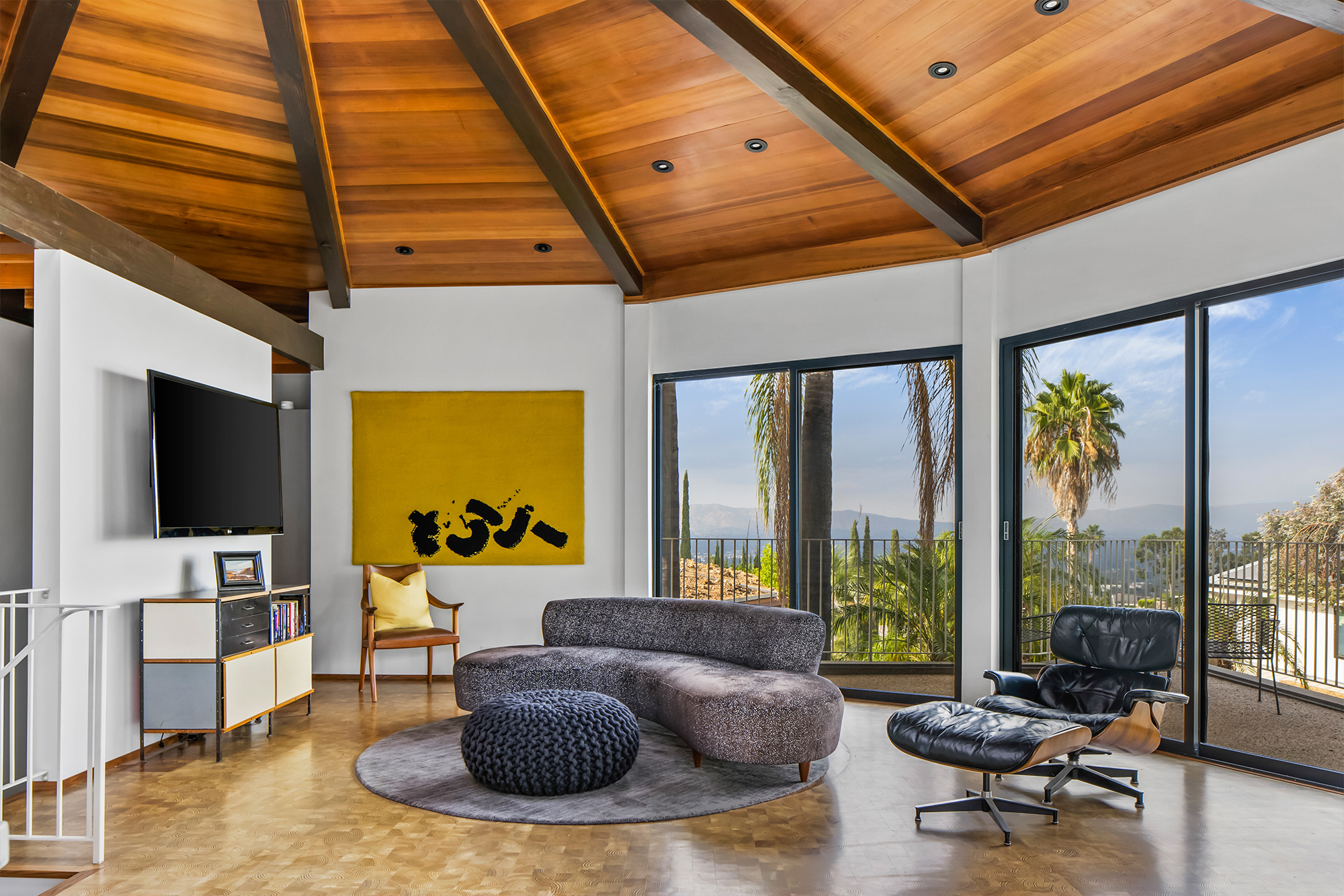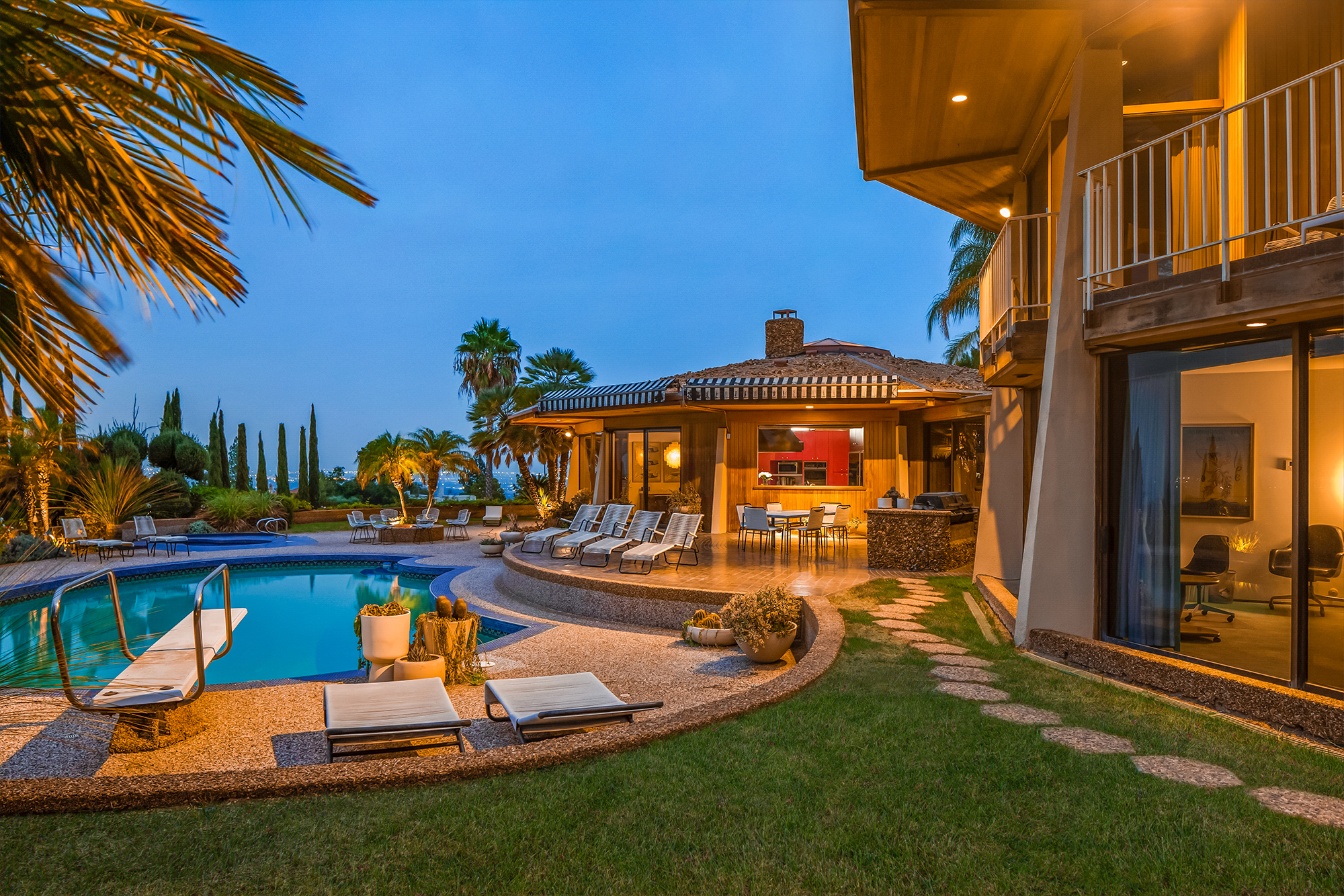 This rare home, located at Via Vallarta 17862, costs $8,495,000. Mick Partridge of Hilton & Hyland is the listing agent.
---
Story courtesy of Forbes