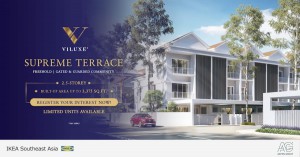 Batu Kawan – Viluxe, the one and only mansion in the heart of Aspen Vision City, is now all set to unveil the second phase.
The 2.5 storey Supreme Terrace units are larger in size and have an exquisite design touch on both the spectacular facade and the sensible different layouts to suit the needs of the whole family.
Aspen Group's CEO Ir. A. Anilarasu said that since the launch of Phase 1 of Viluxe Premium Terrace, which consists of 170 units of 2-storey terraces and 4 units of 2.5-storey terraces, the recording speed has been overwhelming.
"Since we launched Viluxe Premium Terrace, we have only a limited number of units left so far and inquiries are still pouring in for the respective development," Ir. A. Anilarasu revealed.
"So we believe that the launch of Viluxe Supreme Terrace is now timely and it will certainly attract more home buyers and investors looking for the perfect country home in mainland Penang," he said.
ir. A. Anilarasu added that this new 2.5-story Supreme Terrace features up to five spacious bedrooms and five bathrooms with a built-up area ranging from approximately 25′ x 65′ to 34′ x 70′.
He explained that the Supreme Terrace is designed for families to have a home with a seamless open concept where it gives them the flexibility to custom design the layouts to suit their own lifestyle and imagination.
"This residence has been designed with a family space to promote open communication and bonding between family members to achieve harmonious family life," he added.
Viluxe Supreme Terrace is a gated and guarded community with two secure entrances that are sure to give the homeowners more peace of mind. This country house is also surrounded by a double fence that not only increases safety, but also functions as a green buffer.
The freehold development also has a green factor to the back lanes known as Evergreen Alley Garden which is a perfect space for community activities that encourage neighborly bonding as well as some quiet time to myself.
Aspen Vision City is touted as the best address in the North, brimming with opportunity and lifestyle developments to match its GBI-certified status as the region's eco-metropolis. The AVC master plan, jointly planned and developed by Aspen Group and IKEA Southeast Asia, is part of an exciting new ecosystem that will connect more than six million people in its immediate service area. There are already many Fortune 500 companies here that attract many professionals to their research and development center. AVC also brings together all the comforts of modern life in a place where business thrives.
Viluxe Supreme Terrace is now open for registration, where early risers will have the benefit of first hand information about this development and priority selection among other benefits.
You can register now via this link: https://forms.mhub.my/a3fcdaf9-9696-40f5-9897-f30f8300d03f
Visit our Facebook page to learn more about Aspen Group's ongoing programs www.facebook.com/myaspengroup or call Aspen on 1300 30 5000. You can also find more information on their website www.aspen.com.my.