Buying a retirement home? 9 important things to consider
We all need different things from our homes at different stages of our lives. When you are nearing retirement, you look for different things in a house than when you were younger.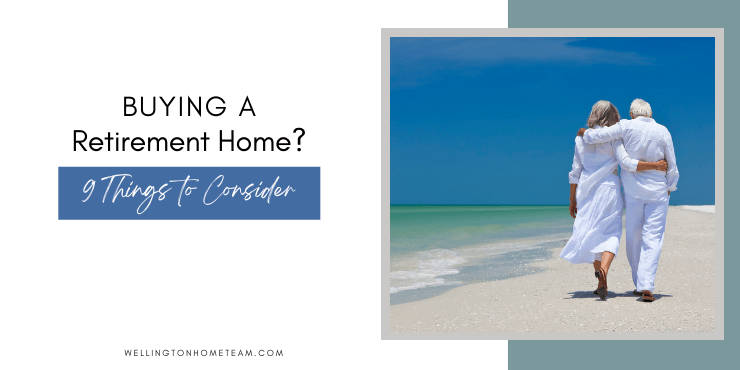 You may want to downsize or move to a different area, but whatever your exact requirements, there are many things to consider. This is likely to be a big change in your life and you want to make sure you make the right choice.
Let's take a look at what you should consider when buying a home for retirement.
Choosing the right location
As you get older, driving can become less easy, so it can be vital to look for somewhere closer to the amenities you need. You may also want to move closer to your family or have more access to hobbies that you enjoy.
You need to think about and make a list of your must-haves for where you want to live. Once you know these, it will be easier to find the right neighborhood to look for a retirement home. However, it can take several months or even years to determine where you want to go. Fortunately, so much information can be obtained online to help you figure it out.
Consider a retirement community
Choosing to live in a retired community offers some advantages, but there can also be disadvantages. While a retirement community offers activities in the company of people your own age, they can sometimes have strict rules and high maintenance costs.
If you've lived in your own home where you can do whatever you want with the house, the rules of this type of community can seem very restrictive. Living under new rules can take some getting used to, but you'll find the benefits are worth it.
Avoid houses with stairs
Even if you don't have a problem going up and down the stairs at the moment, it can become a problem later on. To avoid these problems, a one-story house is a much better choice for your retirement. Would a two-storey house with the master bedroom on the ground floor be an option? Often yes, it ultimately depends on what is on the second floor and how often you need to access it, if at all.
If you are planning to buy a retirement home now or in the near future there are many things to consider and here are the top 9.
Improved access
If your retirement plan includes building a new home, you can make it easier by having larger doorways, hallways, and bathrooms. This makes it easier to move around the house if you later need to use a wheelchair or walker.
Even if you are not considering new construction, many current real estate styles already offer spacious accommodation and this should be something to consider when looking at homes for sale.
Walk-in showers
With age, it can become more difficult to use a bathtub. Walk-in showers eliminate the need to step into a shower or sit in a tub. Stepless showers also make it easy for wheelchair users. However, if you've found a house that you absolutely love and that doesn't have a walk-in shower, it's something you can add. However, not everyone wants to take on a project like this.
Planning for the Future
While you may have a good idea of ​​your retirement home, is your partner on the same page? If you haven't fully discussed your options, they may have very different expectations.
It may take a few conversations for both you and your significant other to be happy with the retirement home plans. Perhaps your retirement means buying a second home in a warmer location.
Being able to live in a vacation spot during the colder winter months will certainly make your retirement more enjoyable.
Check your finances
To make sure you have a comfortable retirement, you need to make sure you have enough money. Once you have stopped working, you will no longer have the same income as before. Can you afford to buy the house you want, pay the bills and have money left over to enjoy your retirement?
You still have to pay taxes and cover the cost of renovations and repairs to your new home. To make your retirement less stressful, you need a realistic financial plan.
If you are unsure whether you will have enough money for retirement, you can consult a financial advisor to help you plan. If you are not yet retired, it can be a difficult adjustment to live on a reduced income.
You also need a financial plan that takes into account the possibility that you or your partner will die. While this is not pleasant to consider, planning for these contingencies will help prevent financial disasters should this happen.
If you are planning to buy a retirement home now or in the near future there are many things to consider and here are the top 9.
Mortgage
If you need a mortgage for your retirement home, it can be tempting to opt for a large down payment if you have the money. However, this may not be the best option if you don't have a lot of cash to spare.
If you use most of your available money to buy a deposit, it can be difficult to enjoy your retirement. While it should allow you to pay off the loan faster, it can lead to more stress.
If you don't need a mortgage to buy a retirement home, there's always the option of a reverse mortgage. A reverse mortgage allows you to release the equity you have in your home so you can enjoy your retirement or deal with unexpected expenses.
You can also use this mortgage as a form of income or to pay off debts. The lender pays you money instead of the other way around, but it does mean that they will take ownership of your house when you no longer live there. There are other drawbacks to these types of financial products, so you should seek independent financial advice so you know the risks.
Do you have pets?

Pet ownership can sometimes be restricted in retirement communities. So if you have a pet, make sure that the community rules allow you to keep them.
Some communities do not allow certain types of pets or limit the number or size, while others may not have rules.
Even if you are allowed to keep a pet, will the type of home be right for your pet? If you are considering buying an apartment, do you have to take the elevator repeatedly to walk your dog? You will definitely want to keep your furry relatives in mind when buying a retirement home.
Final Thoughts
Finding your ideal retirement home is not a small step and you should think about it carefully. You should not rush into your retirement home choice to avoid making a decision that you will later regret. By following these tips, you can enjoy your retirement years in a home that best suits your situation.
Please consider spreading and sharing the word; Buying a retirement home? 9 important things to consider
If you are planning to buy a retirement home now or in the near future there are many things to consider and here are the top 9.
About the author
Top Wellington broker, Michelle Gibson, wrote: "Buying a retirement home? 9 Important Things to Consider"
Michelle has specialized in residential real estate in Wellington, Florida and the surrounding area since 2001. Whether you want to buy, sell or rent, she guides you through the entire real estate transaction. If you're ready to put Michelle's knowledge and expertise to work for you, call or email her today.
Service areas include Wellington, Lake Worth, Royal Palm Beach, Boynton Beach, West Palm Beach, Loxahatchee, Greenacres, and more.
Buying a retirement home? 9 important things to consider