The traffic light system for travel has been replaced by new simplified rules in the UK, with one red list and a 'rest of the world' travel list.
The revised rules will be welcome news for those looking to get their dream of moving overseas back on track.
Trevor Leggett, chairman of real estate agency Leggett Immobilier, says the easing of restrictions will lead to a jump in the number of home viewings and sales in France.
"The French real estate market is hotter than I can ever remember. We've been holding back demand from UK buyers who haven't been able to travel easily between the two countries. Be warned though, you'll face stiff competition from local buyers, so get your finances in order and be ready to move quickly," he says.
In the meantime, we thought we'd look for a dream home and take a look at some of the most spectacular homes currently for sale in all of Europe – from exotic beachfront villas to palatial country retreats. Look.
1. France
This beautiful Hacienda style luxury villa built in the hills of Saint-Antoin, in Nice, overlooks the hills to the west and the sea and Cannes to the southwest.
The expansive eight bedrooms are an architectural masterpiece, with a striking curved staircase in the main hall and marble floors throughout.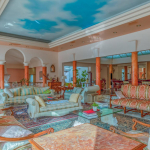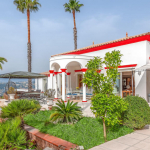 The indoor spa is equipped with a hammam, sauna, pool and gym, but we are too busy dreaming of poolside cocktails on the large outdoor terrace.
Take a closer look at the property below: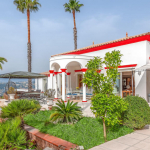 A luxury eight bedroom villa in Nice
Provence-Alpes-Côte d`Azur, Alpes-Maritimes, Nice, France
€5,500,000
Leggett Immobilier, France 3
Go to property
2. Spain
This ultra-luxury oceanfront villa wouldn't look out of place in Miami…or the new Bond movie.
Large, bold interiors display a maximalist design, making full use of the house's epic proportions, with walls of illuminated marble, contemporary stained glass elements and floor-to-ceiling artwork.
Tall palm trees surround the property, which by the way has not one pool, but two, with water flowing from the infinity pool on the first floor to the pool and terrace below.
Take a closer look at the property below: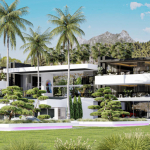 A modern architectural masterpiece in Marbella
Andalusia, Malaga, Marbella, Spain
€ 25,000,000
Monarch Estate Agents SL, Malaga
Go to property
3. Italy
Ever dreamed of living in Italy, making your own wine and producing your own olive oil? This sprawling estate is truly the Tuscan dream.
Within the estate there are 17 bedrooms with en-suite bathrooms, four sitting rooms and three apartments. There is also a swimming pool, bar, jacuzzi, gym and sauna on the extensive grounds.
The property has its own restaurant, 25 hectares of vineyards, a wine cantina where the wine is produced and bottled and an olive grove.
Take a closer look at the property below: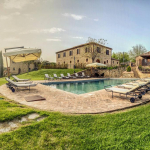 A rural oasis in Tuscany
Tuscany, Siena, Siena, Italy
€13,500,000
Italy Sotheby's International Realty, Italy Center-South
Go to property
4. Portugal
This modern Algarve property is within walking distance of the beautiful sandy beaches of Vale do Lobo.
Spread over three floors, there is ample space for guests with seven bedrooms and nine bathrooms.
The outdoor space makes you the ultimate host, with a south-facing pool deck, heated infinity pool, a choice of sitting areas, BBQ area, poolside fire pit and extensive gardens.
Take a closer look at the property below:
A contemporary beach villa in Vale do Lobo
Algarve, Portugal
€ 10,950,000
Waratah Properties, Almancil
Go to property
5. Greece
Located on the coast of Porto Heli, a Greek seaside resort, Villa Splendide is truly a piece of paradise in the Peloponnese.
With steps leading directly to a private cove, you can spend summer days swimming in the clean, crystal clear waters, or lounging by the pool enjoying the sea and mountain views.
The eight-bedroom, eight-bath home has plenty of space, with a huge outdoor dining area you won't want to leave.
Take a closer look at the property below: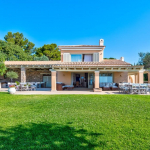 Villa Splendide
St. Emilianos, Argolis, Peloponnese, Greece
€7,500,000
Greece Sotheby's International Realty, Athens
Go to property
.

Source