Home prices across the country have had a great 12 months, but there are signs that the bull run is starting to slow down.
According to the latest data from CoreLogic, home prices across the country rose 1.5% in August, bringing the annual growth rate to an impressive 18.4%.
Once again, the smaller capitals of Canberra and Hobart are leading the rise in house prices, with values ​​increasing by 2.3% and 2.2% respectively. While Brisbane also continues to perform strongly at 2.0% in August.
Australia's two largest cities face the most hurdles in the form of continued lockdowns and restrictions, but they too saw another month of growth, with Sydney home values ​​up 1.8% and Melbourne 1.2%.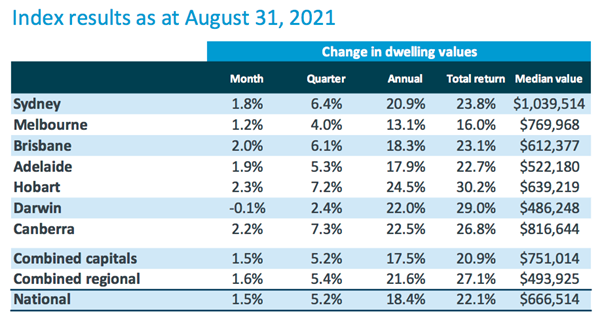 Source: CoreLogic
While the annual growth rate for the capitals has been impressive, we are also starting to see the monthly growth rate decline from the highs of earlier in the year.
Looking back to March 2021, we saw 2.8% growth nationwide, led by Sydney, where home values ​​rose 3.7%. While growth is still positive, it looks like we're now starting to see slower growth, especially in our most expensive cities, where affordability is already an issue.
Head of Research at CoreLogic, Tim Lawless, believes the deterioration in affordability is having more of an impact than the ongoing lockdowns.
"House prices have risen nearly 11 times faster than wages in the past year, creating a greater barrier to entry for those who don't already own a home."
"Lockdowns have a clear impact on consumer confidence, but so far the restrictions have resulted in declining advertised listings and, to a lesser extent, fewer home sales, with less impact on price growth momentum. It is likely that the ongoing shortage of owner-occupied homes is central to the upward pressure on home values."
According to Tim Lawless, home value growth has been the strongest since 1989, which remarkably coincided with a period of record inflation.
"During the late 1980s, the annual rate of national home value growth was a staggering 31%, so the market isn't quite on uncharted territory. The annual growth rate is currently trending higher, in fact being 3.6 times higher than the 30-year average of annual growth."
Offers remain tight
One of the main sources of upward pressure on house prices continues to be the low stock in the market. This has been an issue since the onset of COVID in early 2020 and those previous levels have never really recovered.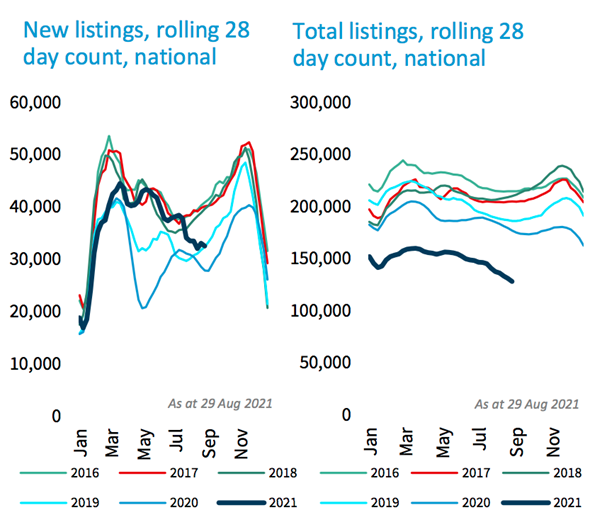 Source: CoreLogic
Mainly due to lockdowns, the number of new offers through August fell -5.8% below the five-year average and the total number of active offers was -29.4% below the average.
Although the quotes are clearly lower, Mr Lawless says there are still trades going on
"While there has been a recent trend towards fewer buyers, home sales in the past three months have remained 30% above the five-year average, while active listings are -29% below average," said Lawless.
"We are still seeing a mismatch between advertised supply and housing demand, even in the cities where lockdown restrictions are in place, which continues to push up house prices despite the challenges facing both buyers and sellers."
With spring approaching, we would normally see the number of new quotes start to rise dramatically, and there is evidence that this is happening in Brisbane, Adelaide, Perth and Hobart.
However, the same cannot be said for the cities where lockdown restrictions remain in place. The trend in new quotes remains weak in Sydney, Melbourne and Canberra. When lockdowns are eased in these cities, there is likely to be a certain amount of pent-up supply that will hit the market and ease the pressure to some degree.
At this point, with interest rates at record lows and still no signs of change in the RBA outlook, we will likely still see house prices continue to float upwards.
This sentiment was also recently echoed by ANZ, which suggested that the outlook for 2021 was still strong, but going forward, growth will return to more normal levels of around 5% per year in 2022 in most major cities.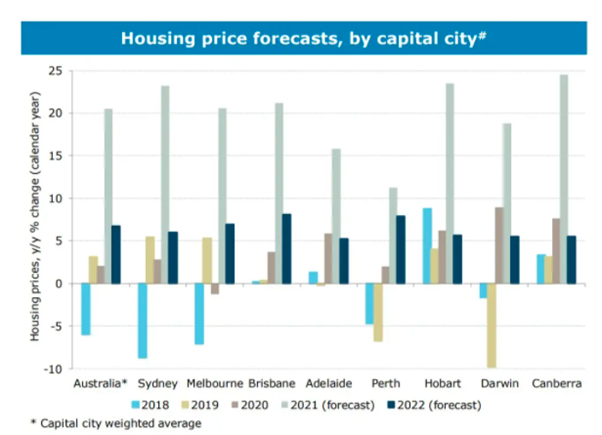 Source: ANZ
However, with affordability issues now beginning to emerge in Sydney and Melbourne and other high-demand areas, CoreLogic also believes we should expect slowing growth.