Chatbots in banking have seen technological advancements that are redefining the way people interact with the bank. We look at how bank chatbots improve the customer experience.
All over the world, people are excited about the idea of ​​using chatbots in banking. Likewise, we are also seeing some of the world's leading banks integrate live chat into their websites and use WhatsApp chatbot to engage with their customers.
Some of the banks and financial institutions leading the way include Societe Generale, TransferWise, and Swedbank.
It is only a matter of time for others to follow suit.
Banking is one of the industries that needs secure technology to avoid the possibility of fraud or accidents while providing a good customer experience. Chatbots in banking can help with both.
Recommended Reading: Using AI Chatbots for Fraud Detection
The banking industry involves thousands of financial transactions every day and requires supervision and assistance to prevent mistakes. And since this sector is in direct contact with customers, the need to improve the customer experience is relatively high.
With the rise of digitization and the increasing demand for online services, the need for online help is great.
This is where chatbots come into play and function in the banking industry. For example, the AI ​​chatbots in banking enable customers to use banking services even on holidays or after work hours.
Chatbots have seen a technological advancement that is changing the landscape of most industries, including banking.
According to a study, the banking system will automate about 90% of its customer interactions by the end of 2022. It indicates that the banking chatbots have seen a positive response from the customers and expect an increase in demand.
To help banks develop a smooth flow of communication with customers, conversational AI chatbots can help.
Possible use of chatbots in banking leads to better experiences
While one talks about the banking sector, it is really huge. From account maintenance to managing insurance and loans, there are countless services on offer. Similarly, the potential use cases for chatbots in banking are immense.
Below we discuss some of the most prominent applications that lead to a better customer experience:
1. User-friendly FAQ
There are several questions that a customer may face regarding banking. The question can be about starting a new account, applying for a loan, investing money or just checking their account balance.
By using a chatbot on banking websites, customers get immediate answers to their questions. And even if they have to follow up on their question, instead of being handed over to a new agent (in which case the customer will have to repeat their question), the chatbot can provide an update.
A smart AI-powered chatbot can automate up to 80% of questions. The ML algorithms are built in such a way that every time a customer asks new questions, the AI ​​trains itself to provide a better service next time. This also improves the self-service experience.
Recommended Reading: Customer Support Automation and Its Importance
2. Relevant information and more conversions
A bank (or any company for that matter) needs new customers to keep growing. Chatbots in banking can help with that. When a customer visits your website, the bank chatbot can greet the user and share the right information or point them in the right direction.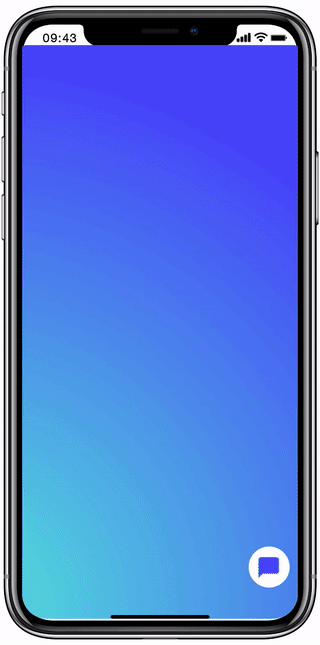 With the ease of use and better presentation of the options, chatbots help the banks to offer tailor-made and personalized strategies. This leaves a positive impression on the customer.
Banking chatbots can also profile users by asking relative questions. Based on this data, you can qualify leads, send targeted messages and increase conversions.
Recommended Reading: What Is Conversational Marketing And How Can You Use It To Grow Your Business?
3. Timely Notifications
When it comes to money, people are very careful. They want to be able to receive instant notifications about all their transactions. And if they've set budgets, they'll like to be notified when they've hit their limit.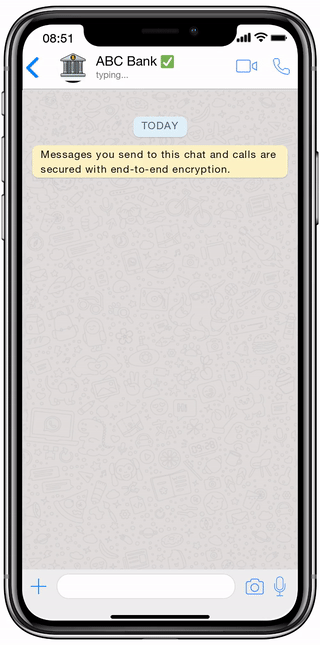 AI chatbots can inform customers with this information, directly on their preferred communication channel. With proactive communication, customers trust the bank more. Small actions like these can do wonders for your bank's image with customers.
Recommended Reading: Introducing Outreach to Proactive Customer Communications
4. Collect and verify data and documents
Chatbots in banking are good not only for sharing information with customers, but also for collecting their consent, KYC documents and other data.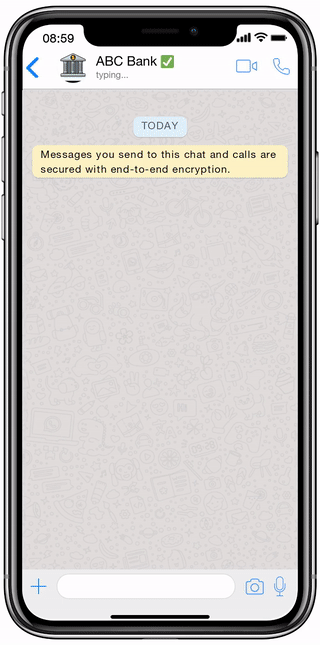 With more working from home and online services, customers no longer want to go to the branch of the bank. Research by Capgemini suggests that over the next three years, 70% of consumers will move their visits to brick-and-mortar banks with their voice assistants for better support and service.
With the help of chatbots, customers can upload their documents online. The bank's AI can then verify these documents and do so in real time. Immediately after receipt of all necessary documents, the bank can send a confirmation and schedule an appointment to further arrange matters.
Recommended Reading: WhatsApp Chatbots for Banking
5. Faster help across the platform
With the increasing demand for 24/7 assistance, chatbots can ensure customer service is accessible on all platforms, at all times. In addition, the use of AI in banking is enabling collaborative assistance across platforms, enabling banks to deliver informed value services.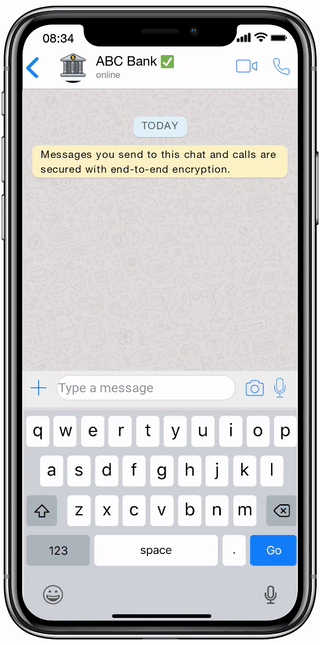 With chatbots, banks can have an omnichannel presence. They can integrate all platforms in one place for better and faster access. This allows customers to get help quickly and easily through social media platforms, instant messaging apps, Android apps and websites.
Recommended Reading: Resolve Conversations Faster with Canned Responses
6. Personal service and financial planner
No matter what time it is, AI in banking allows customers to get personalized suggestions at any time. In case of an emergency, even during the holidays, the use of the chatbots allows the customer to obtain personalized advice based on his portfolio.
Customers can also select their preferred language when chatting with banks. In this way, the customer feels more connected to the banks.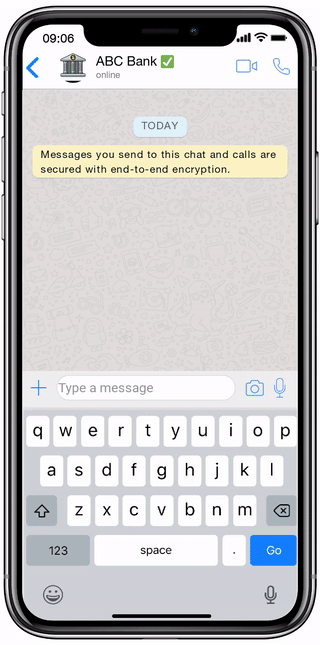 On the other hand, chatbots provide contextual messages. This means that customer chat history is saved and can be accessed later. So when the customer starts a new conversation, the bot can quickly browse the previous chat and purchase history to make custom offers and steer customers in the right direction.
And if the chat needs to be handed over to a human agent, the customer doesn't have to repeat the question, because the agent has all the relevant context it needs to solve the problem.
Recommended Reading: 11 Ways to Automate Customer Support Without Losing Personalization
7. Secure communication
Banks face the problem of malicious activity when it comes to online transactions and communication. Chatbots in banking come to the rescue by immediately alerting customers to suspicious activity. Chatbots can also verify the customer's identity through two-factor authentication.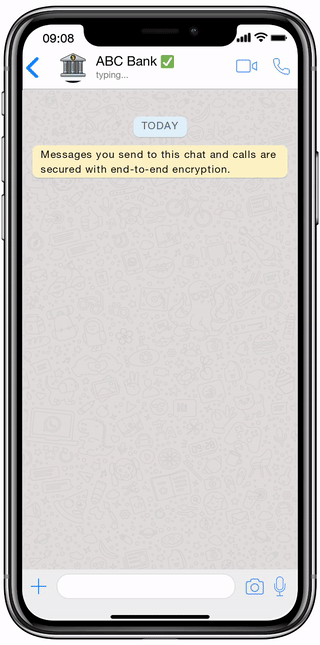 And if the chatbot is integrated with WhatsApp, the messages are encrypted end-to-end. So the customers prefer to chat with banks on this platform as there is one less thing to worry about.
Customers can also verify the authenticity of bank chatbots as they are usually available on the bank's website, mobile app or WhatsApp (which shows a verification sign). This leads to less fraudulent activity.
Suggested Reading: Bam! Verloop.Io is now extra secured
8. Easier to give feedback
For any bank to grow, it is essential to get feedback and work on improvement. With the power of conversational AI, chatbots can ask the right set of questions to the customers without getting bored. This process is faster and more engaging.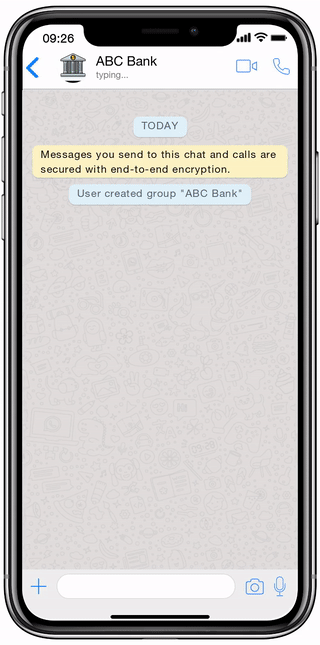 What's also important is that chatbots can get immediate feedback, while the matter is still fresh in the customer's mind.
The feedback from the chatbots enables the banks to know the aspects that need improvement compared to others. The AI ​​in banking enables the use of technology and information to get feedback and create better opportunities.
Recommended Reading: Announcement of CSAT on WhatsApp and Facebook
Chatbots in banking: a new customer experience
Finally, banks today serve a wide variety of customers, the majority of which are millennials who prefer the tech-savvy approach.
Chatbots in banking provide customers with a customized and personalized digital environment for faster and easier use. After all, chatbots analyze banking behavior based on which they can make the best recommendations to meet customer needs as efficiently as possible.
Chatbots are widely used across all industries, especially banking. And given the increasing competition, customers are looking for banks that offer a good experience. Now is the time for banks to find innovative ways to retain their customers.
At Verloop.io we have worked with many banks and financial institutions on various use cases to facilitate the work process. To find out what you can automate for your business and how to deliver a great customer experience, get in touch.