Living in Paradise: the Tramuntana Mountains
That Mallorca is unrivaled in terms of landscape, lifestyle, climate, culture and people is no news. In addition, if one keeps in mind that UNESCO part of the island declared a world heritage site in 2011 this makes Mallorca the perfect paradise.
The mountain range that runs from southwest to northeast and known as Serra de Tramuntana with peaks up to 1400 meters, as is the case at Puig Major or Puig de Massanella, offers an astonishing panorama. The harmonious combination of mountains and valleys, their geology and forest cover or the diversity of plant and animal species are just a few examples of what gives every town, village and hamlet along the mountain range an exceptional beauty. Municipalities such as Sóller, Valldemossa, Deià, Estellencs, Esporles, Banyalbufar, Fornalutx, Puigpunyent, Escorca or Pollença, are a must on any sightseeing route of this Mediterranean treasure and some of the most attractive and valued sites for foreign investors.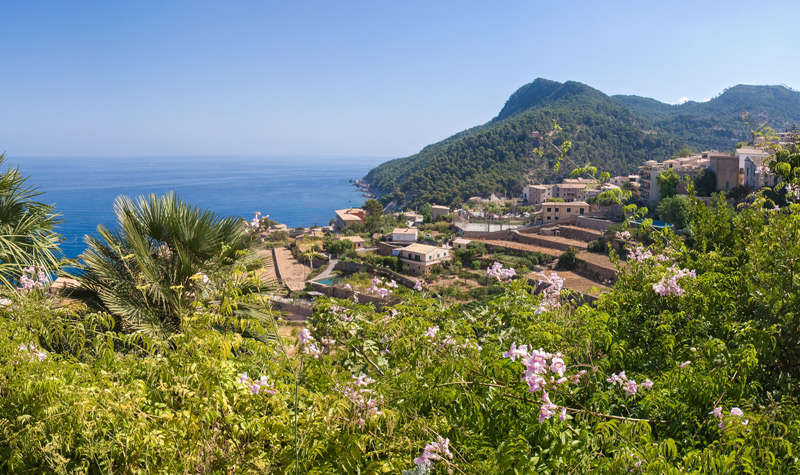 Watch the following video from Estrella Damm a year ago, when the Serra de Tramuntana was declared a World Heritage Site by UNESCO for its scenic and cultural values.

Thus the idea was born to shoot the video for Estrella Damm in Mallorca, to claim the culture, the landscape and the Mediterranean lifestyle.

The song is "You can't say no forever" Lacrosse Swedish group and you will see some of the most beautiful stains of the Serra de Tramuntana
The towns in the Serra de Tramuntana are of great historical, cultural and architectural importance. Although these three aspects are inextricably intertwined, with regard to the latter it is worth noting the construction of dry stone walls for paths, bridges and buildings, and the urban landscape with public washhouses, mills and public wells. Estates called possessions, that are central to agricultural businesses deserve special attention.
They functioned around an agricultural unit, which employed many workers. In fact, the estates were divided into the houses of the landowners and the houses of the administrators. The owners of these estates are usually related genealogically to the descendants of noble landowner families. What makes each of them unique is that they have adapted over the centuries and followed the architectural trends of their period. In this way one finds, for example, baroque mansions, such as Alfabia (Bunyola) and La Granja (Esporles) or neoclassical mansions, such as Raixa (Bunyola). Nowadays, possessions are considered authentic townhouses and a target for property buyers interested in acquiring a symbol of tradition and identity in Mallorca.
Interestingly, it is curious that since the previous centuries the area of ​​Serra de Tramuntana has been a meeting and inspiring place for artists, intellectuals and other world famous personalities. Chopin and George Sand, Robert Graves, Michael Douglas and Catherine Zeta Jones, Claudia Schiffer or Boris Becker were not only impressed, but also settled here and bought real estate there.
Related stories to Serra de Tramuntana, UNESCO World Heritage: