Named one of the top 25 real estate coaches in the country by NAR, Bob Corcoran has spent the past 30 years helping high-performance agents and teams break through intractable plateaus to continue to grow and regain their lives.
On December 14, Bob joined us for a 1-hour webinar to share tips and insights and answer questions from the audience. We were very happy that Bob had another webinar with us and this free coaching for everyone who was interested. Now we're sharing a recording of this popular webinar for you to watch at your leisure.
In addition to all the valuable tips and advice Bob shared, he also helped us tackle these popular topics:
How do you become a household name?
Why artificial intelligence is important for your growth
How to convert more leads into customers
And you will also learn about some very important iHomefinder features related to these topics!
Click below to view the recording of the webinar. If you missed our previous webinar with Bob last year, you can watch that webinar recording too.
---
Sources
Schedule a demo
Book a personal demo & consultation of 15 minutes with an account manager.
Free Trial
If you don't have an iHomefinder account, start your 30 day free trial with our Agent CRM and Optima Leads, our mobile app for agents.
Upgrade your account
If you have an agent account plan, you can activate the CRM in your IDX Control Panel (shown below). Under "Try our CRM", select the green "Learn more" button. Once activated, you can use the CRM free of charge for 2 weeks.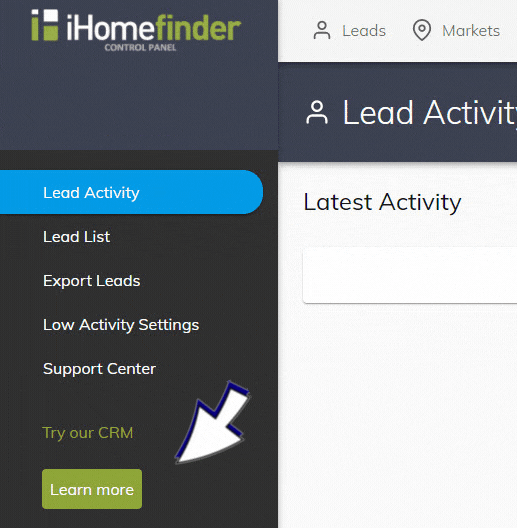 webinars
Save your spot for our next monthly webinar for an introduction to the features and benefits of the iHomefinder account, or watch a recording.
support
Our support center is full of resources such as our searchable Knowledge Base and training webinars to help you get the most out of your account.
Contact us
Ask us your questions, we're here to help!
---
recent articles