This week we interviewed Bobby Varghese from Jervis Systems.
Let's go!
Who are you and what do you do?
My name is Bobby Varghese and I am the founder and CEO of Jervis Systems. We are a Virginia-based software company that allows property managers to securely automate access to real estate through both a browser-based and mobile app option. Jervis Systems uniquely empowers individuals to remotely manage access to their property through multiple options, including via phone call, SMS, secure voice command, unique per-use PIN or mobile app.
We are the first platform to offer calling and text-to-open access technology. We are proud to offer this solution to our clients and our team is passionate about simplifying the art of access management for property managers and their guests.
What problem does your product/service solve?
Managing access to multiple properties and doors is complex and time consuming for property managers. Through years of experience managing a 5 star corporate rental property, I know it's inconvenient to give access to cleaning companies and handymen at the right time and that providing physical keys or the same self-check-in codes for every guest is a thing of the past. , unsafe option.
The average property manager spends a minimum of 4 hours per month maintaining each of their properties. When it comes to managing access to multiple properties in today's rental management landscape, I found there was a need for a solution to make automated access management at scale smarter and simpler.
We launched Jervis Systems to help property managers avoid time-consuming property management without paying the premium prices of management platforms that don't have an easy and comprehensive approach to automating property access. For a monthly subscription fee, Jervis Systems allows our users to remotely schedule and automate access options for their team, cleaning company, maintenance service and guests at the click of a button.
Our platform is also secured with government-grade encryption. As someone who has worked in the cybersecurity field for over 20 years, I believe in providing a solution that gives our customers peace of mind, especially in today's world.
What are you most excited about right now?
I am excited about the huge potential to grow.
The real estate management market is expected to grow from $15.10 billion in 2021 to $28.21 billion in 2028. According to a report from Buildium, we know that 75% of real estate managers plan to grow in the next two years and We note that much of their strategy is focused on adding more doors to their portfolio and using technology to improve their work processes to save time and money.
I am delighted that Jervis Systems is able to help so many people fine-tune their management workflows. We are passionate about removing the hassle of traditional access management ways, allowing our customers to focus on the big picture of their business.
What's next for you?
We are constantly refining our platform and expanding our customer base in the US and Canada. This is in addition to continually working to add to our list of supported devices and creating partnerships with other property management platforms and proptech solutions.
Overall, we have an incredible team that I am proud to work with to achieve the ambitious goals of the coming years. Our vision is to make access management secure, accessible and simplified for property managers around the world.
What is a cause you are passionate about and why?
A passion of mine is to help people in their professional lives when given the opportunity. Regardless of the setting, whether it's a professional or a local restaurant, if I come across someone who cares about their job and responsibilities, and who goes out of their way to do their job well, I will find a way to connect them with people and companies I know that could give them the opportunity to grow professionally.
I've been fortunate enough to point dozens of people to their first IT job or other network security career over the past ten years. Many of these people have kept in touch. I've seen them rise up the corporate ladder and even branch out to start their own business. Those chance encounters and first impressions have always proved right about the individuals I've met, and their successes have been worth seeing.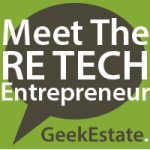 Thanks to Bobby for sharing his story. If you want to connect, find him here on LinkedIn.
We are constantly looking for great real estate tech entrepreneurs to showcase. If that's you, read this post and send us a message (Community @ geekestate dot com).