This week we interviewed Giri Devanur from reAlpha.
Let's go!
Who are you and what do you do?
My name is Giri Devanur and I am a tech entrepreneur and the founder and CEO of reAlpha, a leading technology company with a plan to empower anyone to invest in the $1.2 trillion short-term rental market. I was the President and CEO of Ameri100 Inc., since its inception in November 2013. In 4 years, I scaled Ameri from $0 to $50 million in revenue and completed the IPO on Nasdaq in less than 4 years. I was also named E&Y Entrepreneur of the Year in 2017 and wrote a book called "Nothing to Nasdaq".
I am a programmer at heart and inspire people to solve complex business and technology challenges. I have over 25 years of experience in the information technology industry. In 2010 I acquired WinHire Inc. founded, an innovative company that builds software products through technology and human capital management experts and combines them with professional services. I also co-founded Ivega Corporation in 1997, an international niche IT consultancy with a special focus on financial services. Ivega merged with TCG in 2004 and created a differentiator of more than 1000 people in the field of IT consulting.
I have an MS in Technology Management from Columbia University and a BS in Computer Engineering from the University of Mysore, India. I have also attended executive education programs at the Massachusetts Institute of Technology and Harvard Law School.
What problem does your product/service solve?
reAlpha is like the Robinhood of investing in Airbnb properties. What we found is that short-term rental (STR) real estate yields +70% return compared to long-term rental, making real estate investing lucrative again. reAlpha solves 4 core problems that 99% of Americans looking to invest in real estate face:
Nobody has a 25% down payment (imagine organizing 100K for a $400K property.
Private individuals can't access the wholesale real estate market (only the big boys have)
No one wants to master the problems of a short term rental property.
Nobody wants to manage the extremely complex mortgage process.
To solve these problems, reAlpha collects and scores properties from the wholesale market using a proprietary AI-driven algorithm called reAlphaBRAIN. We then predict each property's viability for Airbnb, as well as its expected long-term value. On our marketplace app (operated by a broker-dealer), we then enable investors to become fractional owners of specific properties, providing meaningful wealth generation opportunities through short-term passive income through Airbnb and through proprietary asset-driven capital growth. We also want people to experience the real pride of ownership so that they can have access to live in their property too!
What are you most excited about right now?
We are pleased to offer Main Street investors access to become a shareholder of our company through our Reg A+ registration. We could have raised the money from VCs or private equity, but it was important to us to allow everyone as a shareholder to join our community. So we're raising $75 million, which will take us up to $750 million in AUM. Once we've built this initial portfolio, we'll open the reAlpha app, where people can then invest in individual properties.
Our proprietary algorithms, partnership network and great leadership team make reAlpha a force in the emerging Airbnb market. With this additional funding, we are poised to scale our operations to open up more investment opportunities and create positive outcomes for the communities in which we operate. We have a lot of control over democratizing the massive $1.2 trillion short-term rental market and investment process.
Short-term rental is no longer purely transaction and occupancy driven. We rethink the entire guest experience from start to finish. The reAlphaHouse is the ultimate on-demand rental home. We implement various technologies, including smart locks, voice-activated electronics, home automation systems and innovative furniture, to create an unparalleled guest experience.
What's next for you?
As reAlpha is a digital marketplace that empowers its members to simplify wealth creation through short-term rental investment while providing an exceptional guest experience, our goal is to build a community with a million people. We have plans to acquire 15,000 properties over the next 5 years and enable 60,000 store members to form investment syndicates for those properties. We are motivated to attract all types of people and serve different communities.
What is a cause you are passionate about and why?
I am passionate about education as I come from a family of teachers. I would love to help a large number of children in the inner city with learning resources and opportunities to realize their dreams.
reAlpha is committed to bringing our mission of simplified wealth creation to everyone. When we say everyone, we mean everyone. That's why we're introducing a flagship partnership that will bring property and employment to our communities. We set aside 2% of our fundraising to spend on the reImagine Fund. This will create up to $30 million in real estate for underrepresented populations and enable the reAlpha workforce opportunity program.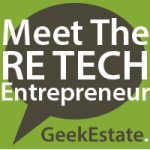 Thanks to Giri for sharing his story. If you want to connect, find him here on LinkedIn.
We are constantly looking for great real estate tech entrepreneurs to showcase. If that's you, read this post and send us a message (Community @ geekestate dot com).