This week we interviewed Christine Wendell and KC Crosby from: Pronto case.
Let's go there!
Who are you and what do you do?
We are Christine Wendell and KC Crosby, co-founders of Pronto Housing, the first and only turnkey software-as-a-Service platform for affordable housing, bringing a higher quality of life to more than 11 million Americans face home instability while asset managers can achieve their financial goals.
What problem does your product/service solve?
Whether it's an initial lease up or annual compliance, owners and tenants alike have faced slow and painful processes in the past, full of uncertainty and risk. We are focused on ensuring a quick and easy process for both sides of the equation. By automating compliance with current U.S. affordable housing programs, we reduce this friction, automate manual data entry, and increase transparency for asset managers and tenants alike.
What are you most excited about right now?
Our SaaS platform is currently available in beta with approximately 2,000 units on board, for property owners including Housing Trust Group, Lemor Development and Laramar. We are thrilled to continue to add units across the country and provide an important, long-term solution to a critical, national problem: the housing crisis. Safe and stable housing is the foundation for people to be involved in their community; facilitating that is our motivation.
What's next for you?
For the next six months, we will be hyper-focused on leveraging funds from our seed round to further build our state-of-the-art platform and recruit top talent to support our growth and create a higher level of service for users. We aim to be available to the larger US market after our Series A. We expect to start increasing in 2022.
What is a cause you are passionate about and why?
Christine: I care deeply about prison reform and in particular the foster care-to-prison pipeline. There is a huge need for more humane responses to help heal people who are in the US or going through the foster care and prison systems.
KC: One area where I've spent a lot of time is interacting with children/adolescents with substance abuse problems. By tackling something earlier in life, these children have the opportunity to grow into adults who will lead productive, fulfilling lives.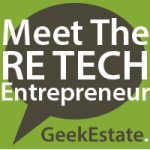 Thanks to Christine and KC for sharing their story. To connect, search Christine on LinkedIn here, and KC on LinkedIn here.
We are constantly looking for great real estate tech entrepreneurs to showcase. If that's you, read this post and send us a message (Community @ geekestate dot com).