We're excited to announce a new feature in Agent CRM plans that can help your real estate leads work more efficiently. Lead Rating is a powerful productivity tool for any agent, and it's available now! Keep reading to find out why it's quickly becoming a tool you can rely on every day.
Why lead review matters
Everyone knows that not all leads are created equal. Some leads are clearly more engaged than others, which is generally a sign that they are more likely to bring in new customers. As you think about how you spend your precious time following up on leads, wouldn't it be nice to have an idea of ​​which leads are probably your best bet? Lead Rating provides you with this important information and helps you plan and prioritize your follow-up efforts.
How Agent CRM assesses your real estate leads
One of the many benefits of our Agent CRM is its tight integration with the IDX features on your website. With Lead Rating, smart algorithms use the search and display activity of your leads on your website to continuously update a Lead Rating in each of your lead records. And you can sort your leads by their ratings to put all your "best bets" at the top of the list.
If you already have an account with Agent CRM, you don't need to do anything to use Lead Rating. It already works and is now available in your account. For more information on working with Lead Rating, check out our Knowledge Base Article.
Sources
Schedule a demo
Book a personal demo & consultation of 15 minutes with an account manager.
Free Trial
If you don't have an iHomefinder account, start your 30-day free trial with our Agent CRM and Optima Leads, our mobile app for agents.
Upgrade your account
If you have an agent account plan, you can activate the CRM in your IDX control panel (shown below). Under "Try our CRM", select the green "Learn more" button. Once activated, you can use the CRM for free for 2 weeks.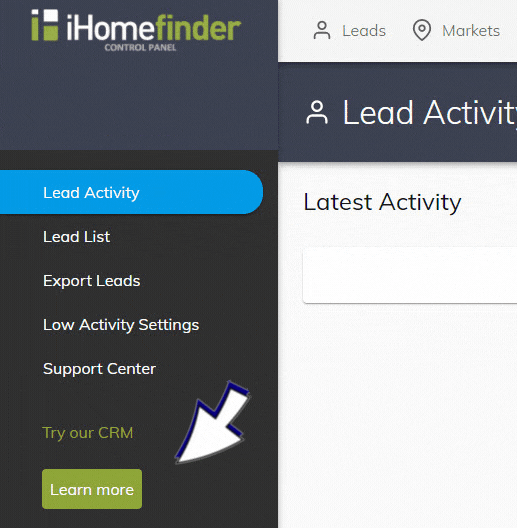 Watch a webinar
Save your spot for our next monthly webinar for an introduction to the features and benefits of the iHomefinder account, or watch a recording.
Support
Our support center is full of resources such as our searchable Knowledge Base and training webinars to help you get the most out of your account.
Contact us
Ask us your questions, we're here to help!
---
recent articles