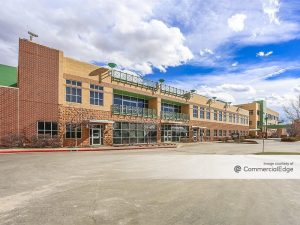 Ventas has completed the sale of two medical office buildings totaling 285,463 square feet in Colorado Springs, Colorado. CBRE Capital Markets worked on behalf of the seller while Capital One provided a purchase loan for one of the properties, public records show. At the time of change of ownership, the portfolio was 72 percent leased, with University of Colorado Health as the primary tenant.
According to CommercialEdge, the assets were last traded in 2007, when Ventas acquired the portfolio from the city of Colorado Springs for $66 million.
The CBRE team representing the seller includes Vice Presidents Chris Bodnar and Lee Asher, Senior Directors Ryan Lindsley and Jordan Selbiger, and Associate Director Kyle Seychel.
Portfolio breakdown
The portfolio includes Briargate Medical Campus, a 59,887 square foot building located at 8890 N. Union Blvd., and Printer's Park Medical Plaza, a 225,600 square foot building located at 175 S. Union Blvd. The assets are located within 10 miles of each other.
Completed in 2002, Briargate Medical Campus is a 4.7-acre estate with five office units in a two-story building, as well as five parking spaces per 1,000 square feet, data from CommercialEdge shows. The property is 1 mile from UCHealth Memorial Hospital North. UCHealth's medical services, along with the Optum platform, cover 97 percent of the medical center. The tenant provides radiology, child care and orthopedics at the location.
Built in 1999, Printer's Park Medical Plaza is a 16.8 hectare site with 12 office spaces spread over three floors and approximately four parking spaces per 1000 square meters, according to the same data provider. The property was 84 percent leased at the time it was traded.
UCHealth is the prime tenant, occupying 66 percent of the building and providing services such as radiology, women's health, cardiology, physical therapy, allergy and asthma. The tenant roster also includes Children's Hospital Colorado, Hanger Prosthetics & Orthotics, and American Vein & Vascular Institute.
The property was originally built to serve the UCHealth Memorial Hospital Central, which is located one mile north of the facility.
MOB sector looks up
The medical office sector is poised for a steady recovery in the second half of 2021, thanks to stable fundamentals and historical trends such as increasing demand from the baby boomer generation.
According to a recent report by Marcus & Millichap, the sector's leasing activity reflects the positive outlook. Of the 14 million square feet of medical office space occupied in March, about two-thirds were pre-let. With a larger part of the nearly 9.4 million square meters delivered in the twelve months ending in March also leased, the sector is expected to see a decrease in vacancy and an increase in the absorption rate.
In addition, the ongoing decentralization trend driven by the demand for itinerant services is also likely to continue to generate new opportunities for investors.