What is an escalation clause in real estate? 7 PROs and CONs
If you're buying or selling a home in a hot real estate market, you may hear the term escalation clause, but what exactly is it and how will it affect you? While a hot real estate market can be great for sellers, it can be extremely difficult for home buyers. This is where an escalation clause can come into play.
An escalation clause is used by buyers when sellers receive multiple offers on their home. It can give buyers a much-needed advantage in a competitive multi-offer situation and ultimately help them win the home they want.
But before seizing the opportunity offered by a clause like this, buyers need to understand how it works. Making an offer on a home is legally binding, so they should understand the implications and possible outcomes before going this route.
What is an escalation clause?
An escalation clause is a clause that is added to a buyer's offer. It states that if the seller receives a higher bid, the buyer's bid price will automatically increase to beat the highest bid by a certain amount. Also, there will be a maximum bid amount in the clause to prevent the buyer from going higher than he is willing to pay.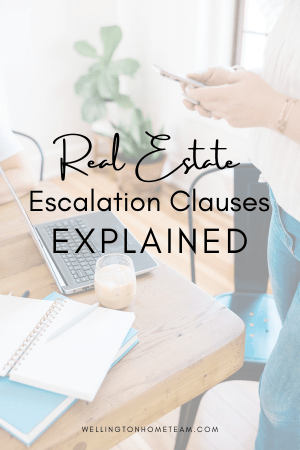 So a buyer could add an escalation clause to his bid stating that if he is outbid, he will increase his bid by $10,000. If the bid was $350,000 and someone else bids $360,000, the clause would automatically bid $370,000.
The buyer can have a maximum bid or a maximum price of $385,000. So if the other buyer comes back with a counter offer over $375,000, the escalation clause will no longer be triggered. But if there is no other bid above the automatic bid, the buyer with the clause wins the bidding.
However, just because a buyer has the highest price and "wins" in a multi-bid situation with an escalation clause, it doesn't mean the seller will accept their offer, nor is it obligated. In addition to the price, there are so many conditions attached to an offer. What if the "winning" bid has to sell his house in order to buy? Maybe they have a mortgage pre-approval, but still have a mortgage condition and the other listings have no mortgage condition because they pay cash. In addition to price, there are many other factors that sellers should consider when submitting a bid.
If you're buying or selling a home in a hot real estate market, you may hear the term escalation clause, but what exactly is it?
The benefits of escalation clauses
As mentioned before, using this clause can give the buyer a better chance of getting the house he wants against the competition. But it also offers some other benefits:
Reduces buyer stress
It allows a buyer to place their bid without having to worry about whether it is high enough. It also saves some of the negotiating back and forth, thanks to the automatic bid increments.
Limits the buyer's offer
Since the clause puts in writing how much the buyer is willing to go, it prevents the buyer from paying more. Although it will increase the bid if necessary, when the other bidder stops, the buyer does not pay more.
The Disadvantages of Using Escalation Clauses
There are some downsides to consider before including a clause like this with an offer.
The appraisal price
If the buyer's escalation clause raises the price to exceed comparable sales, there could be a problem if the buyer takes out a mortgage and the home needs a valuation. Rating flaws are something most sellers want to address up front, not after they accept an offer. They want reassurance that the buyer is putting their money in the right place. Sure, a buyer can make a ridiculously high offer, but it means nothing if the buyer is able to get out of the contract and get their money back if the house isn't valued.
Interesting and confusing for the seller
When a buyer makes an offer to the seller with this clause attached, it can cause a negative reaction. They may be annoyed that the buyer doesn't submit their best offer and complicate the process.
It will take more work from the seller and their agent to keep up with the offers, especially if there are a lot of offers on the table. The situation could lead the seller to prefer only traditional offers and could refuse offers with clauses.
Reveal the maximum bid
When a buyer uses this clause, he gives the seller details of the maximum he is willing to pay for the home. This gives the seller a dominant position in the negotiations. This may lead the seller to decline the offer and tell the buyer to bid their maximum price instead.
The details of the buyer's highest amount may be disclosed to the other buyers, which may also increase their prices.
Creating a Fraud Risk
When a buyer puts the seller in a position where they know how much their highest bid is, they may be able to get a friend to bid that pushes you to your maximum bid. While this probably happens very rarely, there is a risk that you will spend more on the house than you need to.
Price isn't everything
While it's easy to imagine that an escalation clause would make a buyer's chances of getting the home very high, not every seller is focused on price alone. The seller may be more concerned about other factors in the sale, such as the terms of their offer; escrow amount, contingencies and closing date.
Maybe they need to make the sale go faster with fewer problems getting in the way, such as an unforeseen event at the sale of a home that could hold up business.
If a buyer's escalation bid only increases in $1,000 increments, the seller is more likely to prioritize other factors than the extra money and may choose another buyer. But if the buyer is willing to go in higher amounts, they are more likely to influence the seller's decision in their way.
Final Thoughts
If you're buying a home on a seller's market, an escalation clause can be one way to increase your chances of getting the home you want. Although it is not without problems that can backfire on you.
This is where the help of your broker can guide you to the best choice for the situation you are in. Your buyer's broker should understand the market situation and also whether this approach has any chance of success.
When buying a home, be clear about how much you are willing to spend, along with how much your lender will lend you. No matter what, if you know your limit and stick to it, you can avoid problems and regrets afterwards.
Please consider spreading and sharing the word; What is an escalation clause in real estate? 7 PROs and CONs
If you're buying or selling a home in a hot real estate market, you may hear the term escalation clause, but what exactly is it?
About the author
Top Wellington broker, Michelle Gibson, wrote: "What is an escalation clause in real estate? 7 pros and cons"
Michelle has specialized in residential real estate in Wellington, Florida and the surrounding area since 2001. Whether you want to buy, sell or rent, she guides you through the entire real estate transaction. If you're ready to put Michelle's knowledge and expertise to work for you, call or email her today.
Service areas include Wellington, Lake Worth, Royal Palm Beach, Boynton Beach, West Palm Beach, Loxahatchee, Greenacres, and more.
What is an escalation clause in real estate? 7 PROs and CONs